Places, Earth
Luna One
National Parks Under Attack

This Web site doesn't like to take political stands, but now it is necessary.

The current administration wants to reduce the size and number of National Monuments and allow oil drilling and mining in National Parks for the first time since the system was established. If you prefer trees and streams to oil wells and pipelines, contact your representatives in Washington NOW and tell them to protect these Crown Jewels of America.
Places Earth extends sympathies and hopes to both the people fighting to restore their lives in Puerto Rica and to those who's lives have been taken or disrupted by the shooting in Las Vegas. Also to hurricane victims in Texas, Florida, and other areas of the Gulf region. Also to the fire victims in California. So many disasters in short time, all made worse by climate change.
State Parks, Historic Sites, and Museums need your help.


Throughout the country, state parks, historic sites, museums, and similar institutions are struggling to continue operating. Because of general financial problems, many of these institutions are operating on a reduced schedule or in danger of closing. Some are being forced to sell off artifacts and property. Many will not weather these hard times without your help.

Places Earth urges everyone to support these vital and important public resources any way you can. Please donate your treasure, time, and talent. Write to your governor and other elected officials telling them to find a way to keep state parks open. It will be your loss.



Public Service Announcement





---

Film Los Angeles - bring Hollywood back to Hollywood
Explanation.
---
Luna One
All photographs taken by Kenneth A. Larson. All rights reserved. © 2011 - 2017.


---
Luna One began life in 1998 AD when NASA, ESA, Russia, and Japan began robotic exploration for a site. After careful analysis of the data, the site was chosen. Thus began half a century of construction, completed in 2052 AD. Click here for a photographic history.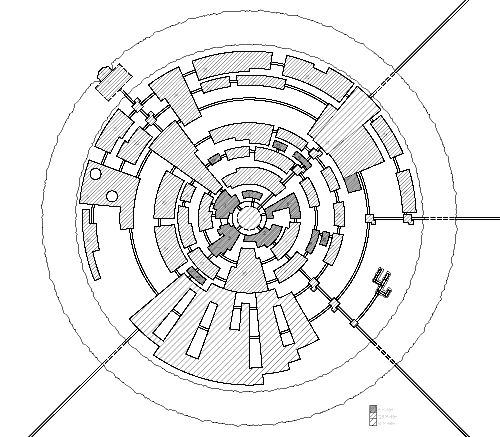 Plan, AutoCAD ©.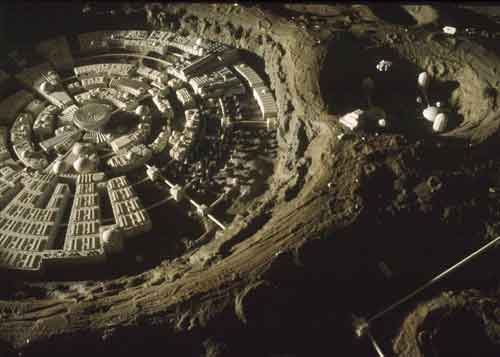 Luna One, 2052 AD.
| | |
| --- | --- |
| Luna One, 2052 AD. | Luna One, 2052 AD |
| Luna One miniature. | Luna One, Set piece 2. |
| Luna One, Set piece 2. | Luna Two, radio observatory on the back side of the Moon. |
page 2
---
This page last updated: Sunday, 02-Nov-2014 01:02:37 EDT
Note:

This is not the official site for any of the places shown in Places Earth. Places Earth is not responsible for accuracy of the information. Hours of operations, prices, exhibits, and sometimes locations are subject to change without notice.
Support this Web Site


I hope that you find this web site helpful. It started because of my love for Architecture and interest in History. I don't allow paid advertising (but this may change). This web site is for your benefit and enjoyment and I make no profit on it. For ten years it has been supported primarily from my regular paycheck as a Set Designer and there haven't been many the last few years. I can no longer run it without help. Alternative funding is needed. A non-tax deductable donation helps cover the cost of operating this web site and may be made to Kesign Design Consulting through PayPal.

Buy my Photographs or Art.



Or donations can be mailed to the address on the contact page.
If you are in the need of a designer, please see my portfolio site www.kesigndesign.com.

or Set Design Portfolio.
This site maintained by Kenneth A. Larson.
Copyright © 2004 - 2017, Kenneth A. Larson. All Rights Reserved.
Website content including photographic and graphic images may not be redistributed for use on another website.